Travelling with children to Morocco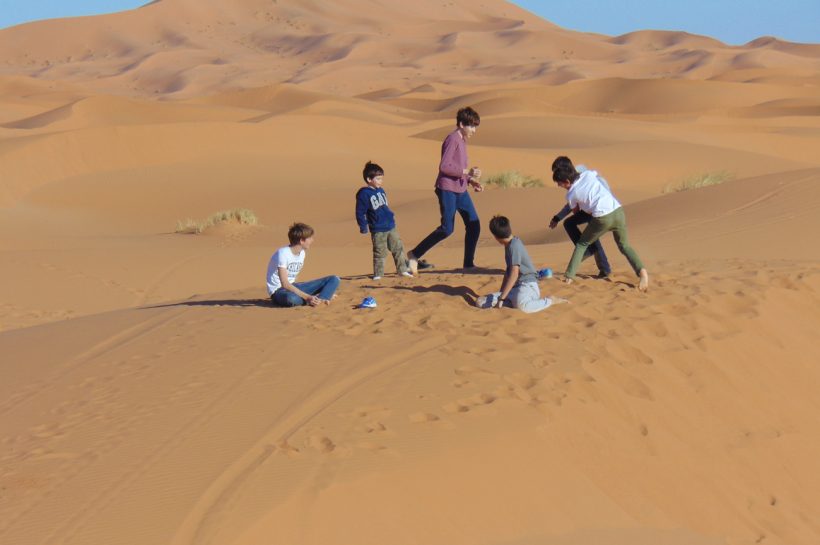 If you have children, it is likely that you want them to be well educated, not only from books, but also from experiences. Traveling with your children to Morocco is a way for them to become well-rounded citizens of the world. Visiting new places, eating new foods, discovering new cultures, and meeting new people will allow your children to grow up in ways they would not otherwise be able to live in a classroom. However, as all family members know, traveling is not always easy with children. Nevertheless, it is a rewarding experience, so do not let the small inconveniences prevent you from enjoying a holiday in Morocco with your family.
Morocco is very child-friendly, as are most Arab cultures. Arab countries value their children and appreciate the value that other cultures attach to their children. In fact, family travelers in Morocco often notice that Moroccans approach them more often and are treated well when they bring their children.
If you want to Traveling with your children to Morocco , here are some tips that will help you along your journey:
your route according to the age of your children and what they like. Hiking, climbing, rafting, camel rides and 4×4 tours are available in Morocco, but not all of them are suitable for children of all ages. Discuss the age and preferences of your children with your guide to create the best trip for your entire family.
Wherever you travel in the world, security is always a concern. In Morocco, children should not be allowed to roam the streets without the supervision of an adult, regardless of age. Younger children should either be in a stroller or hold hands at all times. The cities can be very animated and it is possible that you are separated from your children in animated cities such as Marrakech or Fez. Make sure your child has a card or pin in his pocket on his clothes that indicates who he is, where he is and how he can be contacted.
Growing up, you can grow up with your teenage years, but also with the prospect of spending time with mom and dad on vacation. Morocco is probably your teenager is used to the house, and you can not wait for it. If you are interested in a trip to Morocco, you are in the planning with these suggestions:
_ Find a recipe for a local Moroccan dish like couscous. Let your child help you prepare it before leaving the house.

_ Learn about the country together by reading up on the local history and people.

_ Look into finding films that get your kids excited about the scenery, food and people they will meet in Morocco. One that is especially good is a documentary and interactive overview created by PBS about the Middle East and North Africa. Check out the PBS website under Global Connections for more information.
Who said traveling with your family had to be difficult? With a few simple considerations, your trip to Morocco will be the one your family will fondly remember for years.
If you want to Travel to Morocco with your child Desert Espace Travel Agent here for you any time .