Traveling to South Morocco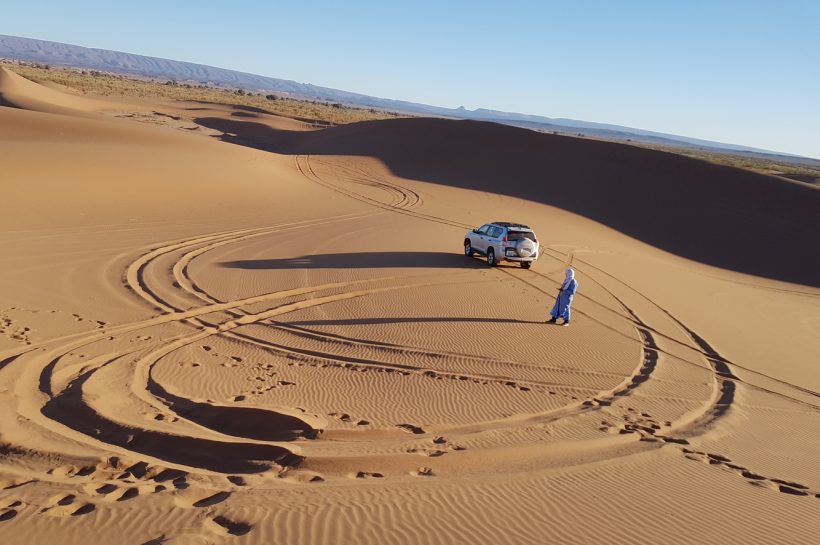 Most tourists traveling to South Morocco will visit only the main crowded and chaotic tourist centers of Marrakech, Fez and Rabat and only a small percentage of them will venture beyond the Atlas to discover the rural areas. Traveling south of the Atlas allows you to discover the real authentic Morocco, where life is slower, quiet, where the air is pure and bright and where the sky of the Mountain or Desert is truly unforgettable.
Related: 10 Best Places To Visit In South Morocco
If you travel from Marrakech toward Ouazarzate, Zagora and the sand dunes of Merzouga you will be pleasantly surprised. Crossing the Atlas Mountains from Marrakesh is an enjoyable ride through red-colored rolling mountains rich in iron and dotted with small green trees overlooked by majestic snow-capped peaks. There will be many lookout points where you can stop for pictures taking or shopping for raw mountain crystals from local vendors waiting for interested tourists. You will drive through some Berber villages where you can stop for refreshments and visit an Argan oil cooperative where you will get explanations and free demonstrations on how the famous Moroccan anti-aging oil is produced from the kernels of the now endangered Argan tree. The rare oil is rich in vitamin E, phenols and unsaturated fatty acids and is used as a base for many cosmetic products including creams and lotions for psoriasis and eczema, as well as for cooking. The products are indeed very effective but pricy since at the cooperative store the prices are fixed and due to the endangered status of the tree, yearly production is limited.
Related: The most beautiful route between Marrakech and Ouarzazate
Crossing the passes, you will arrive at Ouarzazate, a major hub and a neat city, commonly known as the Hollywood of Morocco, as it has several movie studios where many great movies have been shot. During daily guided tours to Atlas Studios (in French with some explanations in English provided by the local guide), you will be able to see and explore the old sets of some of the most famous films ever shot such as Cleopatra, Alexander, Kingdom of Paradise and others, and will have the chance to see the recreated city of Jerusalem from a distance.
The most attractive features of this part of Morocco are the exotic looking kasbahs – castle dwellings – and ksours, which are fortified villages made of reddish-brown dried mud and usually surrounded by beautiful palm groves and oases. Some of these now crumbling buildings are in real despair but once they housed large populus, as much as 100 families at any given time. Many of them are getting empty nowadays since their former occupants are slowly moving into more modern dwellings in surrounding neighborhoods. It is easy to walk through the Ksar Tissargat right on the main road between Ouarzazate and Zagora. Some of the fortress-like Kasbahs once owned by powerful local lords, have been converted into guest houses, restaurants or stores. You can visit them inside, usually there will be a freelance guide at the entrances offering explanation for a few euros, prices are always negotiable and you will pay the guide after the tour based on your satisfaction level.
Between Ouarzazate and Zagora there are many of these villages and Kasbahs along the road. our recommendation is the neatly reconstructed Kasbah Oulad Othmane, where the owners will be eager to show you around for a small museum entrance fee. This kasbah is still in the ownership of the original Othmane family that is struggling with the upkeep of their magical castle since the mud-brick walls require regular patch-up and practically have to be rebuilt in every 60 years. Of course, there is no government funding to save the country's architectural treasures, so the owners are forced to turn the properties into money-making machines just to save them from turning into ruins. You see neglect everywhere and although most of these kasbahs are less than 150 years old, many have an antique feel to them as a result of their deteriorating state. There is one exception, the kasbah and village of Ait Ben Haddu, located north of Ouarzazate, whose history can be traced back to Medieval times. It is a designated World Heritage Site under the protection of UNESCO. The funds received from the world organization however, not always end up in the right hands and certain parts of this medieval wonder still has some crumbling and neglected walls. Despite its fame, the site surprisingly has very little infrastructure and, to approach the village perched on a hill you have to cross a bridgeless river by foot jumping from stone to stone or sand bag to sand bag.
Related: Amazing Morocco Places – Ait Ben Haddou Kasbah
East of Ouarzazate, follow the secondary road of 1000 kasbah towards the picturesque gorges of Dadès and Toudra and palm Tinghir Valley, dominated by its ksour, one of the most beautiful sites of Morocco.
Related: Morocco – land of kasbahs
Of course a visit to Morocco is not complete without a camel ride. The best place is near the village of Merzouga at the pre-Saharan sand dunes. Ridings are offered either at sunset or sunrise.
Related: Night in Bivouac Desert Sahara: Merzouga – Erg Chebbi
We would love to help you plan the best Sahara experience possible. Work with our staff today to help build an itinerary that meets your needs. You'll be able to check all the boxes on your bucket list while knowing you're in good hands!