Morocco Land of Kasbahs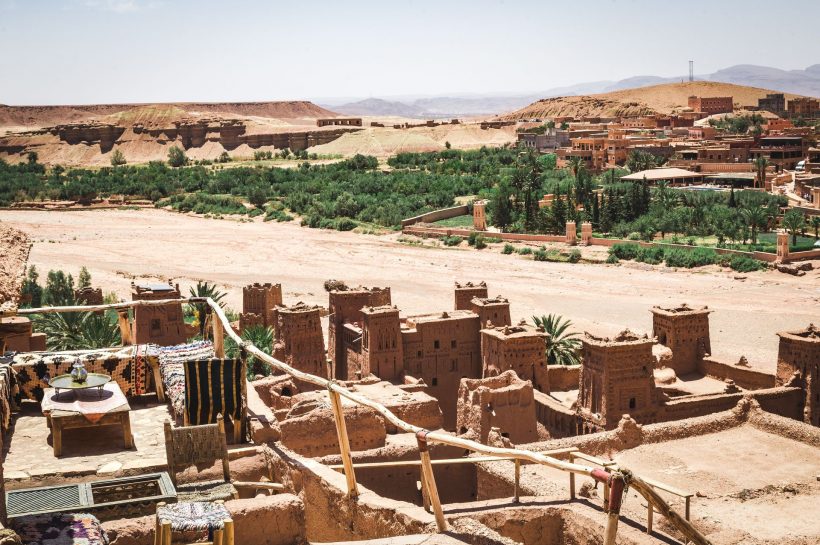 Moroccan landscape is dramatic, varied and so interesting. While traveling around Morocco you also see the landscape dotted by many Kasbahs. Some of them are still standing in full view and others are in crumbling conditions. Morocco has many amazing historical Kasbahs that are characterized by their beautiful appearance and their history. They are the guardians of most of the historical remains of the kingdom. These ancient fortified castles and their grandiose ramparts constantly attract many travelers and tourists.
Kasbah is an old fortresses or citadels. During the old caravan routes from the Morocco Desert trips to the Northern Cities they provided a refuge for merchants and travelers – sturdy walls that sometimes enclosed small cities; places of protection and power. They were place of safety for families. They were guards that kept lookout for invaders from these high, fortified watchtowers.
Related: Amazing Morocco Places – Ait Ben Haddou Kasbah
The Kasbahs were stimulating intersection of the great civilizations. The traders brought with them custom and crafts, believes and skills seeking shelter and social interaction. The Kasbahs are lavishly decorated with geometric motifs.
There are plenty of Kasbahs that you pass while on your tour of Morocco. Many Morocco tour operators include visit to many of them.The must see on your Morocco tour is the Kasbah Ait Ben Haddou in Ouarzazate. This Kasbah was an enclosed city, with palaces, houses and shops and of course high walls and watchtowers.
The winding mazes of connecting streets and alleys once pulsed with thousands who call this their home. Today, UNESCO declares it as a World Heritage Site. Do not miss this visit to Morocco. This kasbah is famous thanks to Hollywood. Films like "Gladiator", "Jesus of Nazareth", "Lawrence of Arabia", "Jewels of the Nile" and many others were shot in this enchanting ksour. The extraordinary view of the Atlas Mountains, Kasbah Telouet, built by the powerful Gladoui clan. The symbol of Kasbah Taourirt of Ouarzazate, which is in the center of the city. The ancient Kasbah Amerhidil, in the oasis of Skoura, appears in many pamphlets on Morocco and the Moroccan currency.
Related: The most beautiful route between Marrakech and Ouarzazate
Kasbah is an icon of the whole Morocco. It is a place of living history, place for peoples of all upbringings and faiths to gather and share and commemorate the interconnectedness of all humankind. It's a Kasbah with an open door. If you wish to have such nature of experiences in Morocco then you need to be with Desert Espace and be part of our Morocco Travel. All of our automobiles are air-conditioned, 4 x 4 Toyota vehicles suited for off-road travel fitted to carry 6 passengers. To book our tours you can send us message .