Hassan II Mosque in Casablanca, Morocco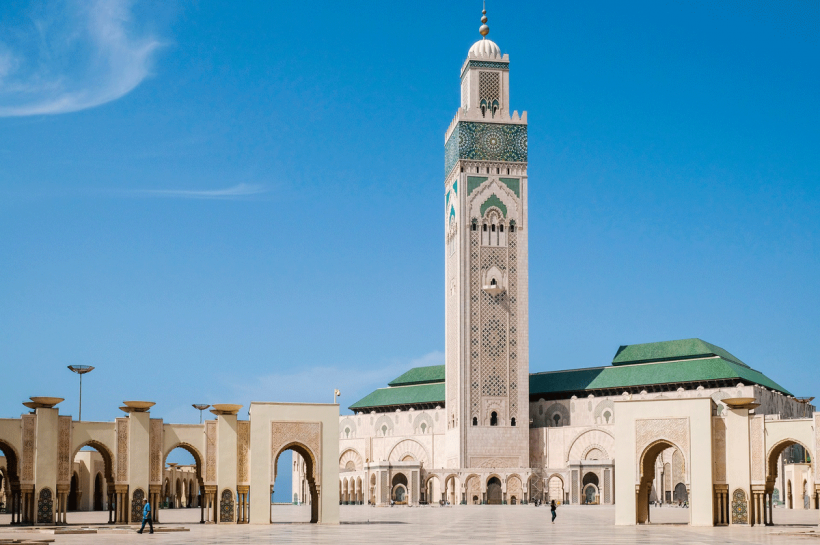 The Hassan II Mosque in Casablanca is the third largest mosque in the world and an impressive place to visit when traveling to Morocco. The Hassan II Mosque is one of the most important works of art in Moroccan architecture. Many tourists visit the city of Casablanca.The style that using in its building is a synthesis of Berber, Mediterranean, Eastern, African and Andalusian contributions, half on the ground, half on the sea, swimming among the waves of the Atlantic Ocean, it took seven years.
King Hassan II gave the inauguration of the construction of the mosque in 1986 and was inaugurated in 1993 during the anniversary of the Prophet's birth. Hassan II was already keen to build the mosque to be a symbol of Islamic civilization and its rich architectural architecture and at the same time a modern cultural teacher of what is new in the technological world. The mosque is a space to learn about the art of expression and the beauty of construction with the Moroccan manufacturer. Making Arab and foreign tourists a tourist attraction and places to visit in Morocco.
The Hassan II Mosque is built on an area of ​​nine hectares. It has a prayer hall with a capacity of 25,000 worshipers and platters, which attracts about 100,000 worshipers during the month of Ramadan. The mosque has a large prayer hall for women, ablutions for women and men, bathrooms and a large garage for cars.
The silo of the Hassan II Mosque occupies the highest silo center in the world, 200 meters high and built on an area of ​​625 square meters. It is decorated with porcelain and marble. It is available on two large doors and four side doors. There is a staircase inside and a fast elevator that can be reached up in a matter of minutes.
The Mosque is an emblem of an entire nation. It symbolizes solidarity, commitment, creativity and spiritual devotion of the Moroccan people. It constitutes, without doubt, a fundamental element of Morocco's national heritage. As a result, it is world-renowned as a stunning example of Islamic sacred art.
The Hassan II Mosque – In Photos